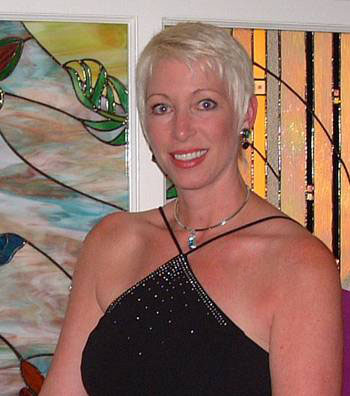 Marit Kirscht, owner and artist of MbM Studios, came to North Carolina in 1989. After working many years as an oncology nurse and court reporter, she finally decided to pursue her artistic talent in glass art. After several years of designing and creating contemporary stained glass work for architectural applications, she moved on to the design and creation of fused dichroic glass jewelry, and thus MbM Studios (Made by Marit) was born!
This unique jewelry is created by fusing together layers of dichroic glass in a kiln to a specific temperature and for a specific period of time. The glass is then cut, shaped, and then re-fused in the kiln to create it's polished edge. This process requires two full days to produce the dichroic "stones". Marit then takes the stones and designs a sterling silver setting into which these dichroic stones will be placed. Each individual piece of jewelry is hand-made by Marit and is "one-of-a-kind".
The creation of the stones not only requires the careful selection and combination of specific types of dichroic glass, but also demands a thorough knowledge of the proper kiln firing techniques. With the addition of various etching and sandblasting techniques, an even greater variety of beautiful designs are possible. Each setting and each stone for that setting is completely unique, so no one will ever be able to say, "I have one just like that".
Every piece of jewelry produced by Marit and MbM Studios is guaranteed to be unique, and is sure to make the purchaser noticed when this artwork is worn.